Know Your Authority in God's Kingdom
October 17th - October 24th, 2017
$0
This class will be taught by Dr. Joey White. This will be a two week class running October 17-24, 2017. This class on Biblical Authority will help you learn how to walk and operate in the authority that Jesus provides all believers.
Child care provided for a small fee of $15 for one child or $30 for two or more!
Real Woman Camp
October 20th - October 21st, 2017
$40 - $85
Real Woman Camp: Oct 20-21, 2017 at Riverbend Retreat Center, Glen Rose
WHO IS REAL WOMAN CAMP FOR?
Ladies that want to grow in their relationship with Jesus! Real Woman Camp is a place for ladies to come and get equipped.
WHAT TO EXPECT: The environment is relaxed and underproduced. You will spend most of your time together in large group sessions and breakout sessions hearing from other StoneWater Women.
WORSHIP: We will also have times of worship and quiet time set aside for you to get alone with God.
THEME: This year's theme is CHANGES.
God orchestrates change in our lives in His timing. Whether it is a change He wants to make in our habits, life change that bring us joy..or maybe that is painful, we do not have to fear change when we put our hope in the ONE who never changes! Ultimately, God causes or allows change in our lives so that we can be transformed. Join us at Real Woman Camp to learn more about digging into God's Word, His Spirit and His people as life changes come our way so that we can be transformed into the image of Christ!
Ladies, it is time to get away and get equipped. We cannot wait to see you!
COST:
Early Registration (on or before 10-8) includes meals (dinner Fri night, breakfast and lunch on Sat)
-LODGING: $85
-NO LODGING: $70
*price goes up $10 on October 9th Space is limited to 220 women, register quick! Ladies who attend RWC with all the ladies in their Community Group receive a $10 discount! See registration for more details.
SCHEDULE:
Friday night's session is 6:30pm-9:30pm; Saturday's session 8:30am-4pm(ish) **Registration opens at 5pm on Friday, come early and get checked in!
Registration for Real Woman Camp is transferable but non-refundable. If you sign up but are unable to attend, please email us at RWC@stonewaterchurch.com as soon as possible so that we can fill your spot!
We do not offer childcare for Real Woman Camp, however nursing moms are welcome to come with their infants.
Granbury | SWU: Mom's Class - "Discerning the Voice of God"
October 24th - December 5th, 2017
$15 - $50
The Tuesday morning Mom's Class is a special time set aside for moms led by Lisa White, Jen Sprayberry & Ashley Wilkins. This is a 10 week class that will meet September 26-December 5, 2017 from 10am-11:30 am. The focus will be Priscilla Shirer's "Discerning the Voice of God." Registration is required and costs $35 per person. Child Care is provided for the 10 week session at an additional cost of $15 per family.
This class is led by three of our Senior Director's wives who are passionate about motherhood and enriching the lives of women.
Lisa White is the wife of Dr. Joey White, co-founding pastor and Senior Director over the Get Going teams. She is a business woman, wife and mom of seven children ranging in age from 5 to 20 years old. Joey and Lisa have surrendered to God's call in the area of parenting by adopting three children.
Jen Sprayberry is the wife of Justin Sprayberry, Senior Director over Central Services teams. She is a business woman, wife and mom of four children ages 10 to 14 years old.
Ashley Wilkins is the wife of Eric Wilkins, Senior Director over Get In teams. She is a worship leader, wife, and stay-at-home mom of three boys ages 23 months to 4 years old.
SWU : Dynamic Marriage (October Session) | GB
October 24th - December 12th, 2017
$0 - $130
Beginning October 17, 2017 and meeting each Tuesday from 6-8:30 pm. This course will feature the Dynamic Marriage Curriculum, cost will be $130 per couple with child care provided for 1 child at $30 and 2 children at $45.
This class will be led by Tim & Leslie Hallman. Dynamic Marriage is a 9 week course that will help you discover how your marriage can thrive and be more fulfilling than you ever thought possible. Based on the "Love Bank" model from the book, His Needs, Her Needs by Dr. Willard Harley, you'll learn how communication and behavior styles affect the way you and your spouse act and react to each other.
Through an interactive learning process, you'll identify behaviors that may be damaging your marriage, develop healthy ways to deal with marital conflict and take concrete steps to meet each other's needs better than you ever have before.
If you need more information about a payment plan or scholarships available for this course please email Cara.Johnson@StoneWaterChurch.com
For more information about the course, please visit https://marriagedynamics.com/dynamic-marriage-9-week-course/
SWU: Bible Basics (October Session) | GB
October 24th - October 31st, 2017
$0
This class will be taught by Wyatt O'Grady. This class will meet four weeks from October 10-30, 2017. Join Bible Basics for both new or old believers, regardless of current level of Bible knowledge. The purpose of the class is to gain an understanding of the history of the Bible - primarily, how we got to the book we have today. The main focal point of the course is to show that Christ is the center of the entire Bible and to help familiarize and deepen one's understanding of biblical concepts in order to make reading Scripture more approachable and less intimidating.
A supplemental book on which the course is loosely based: "30 Days to Understanding the Bible" by Max Anders.
Child Care may be added to your event for a small fee - $15 for one child and $30 for two or more children for all four weeks.
Please bring a Pen, Notebook and Bible to class with you.
If you need additional assistance please email Cara.Johnson@StoneWaterChurch.com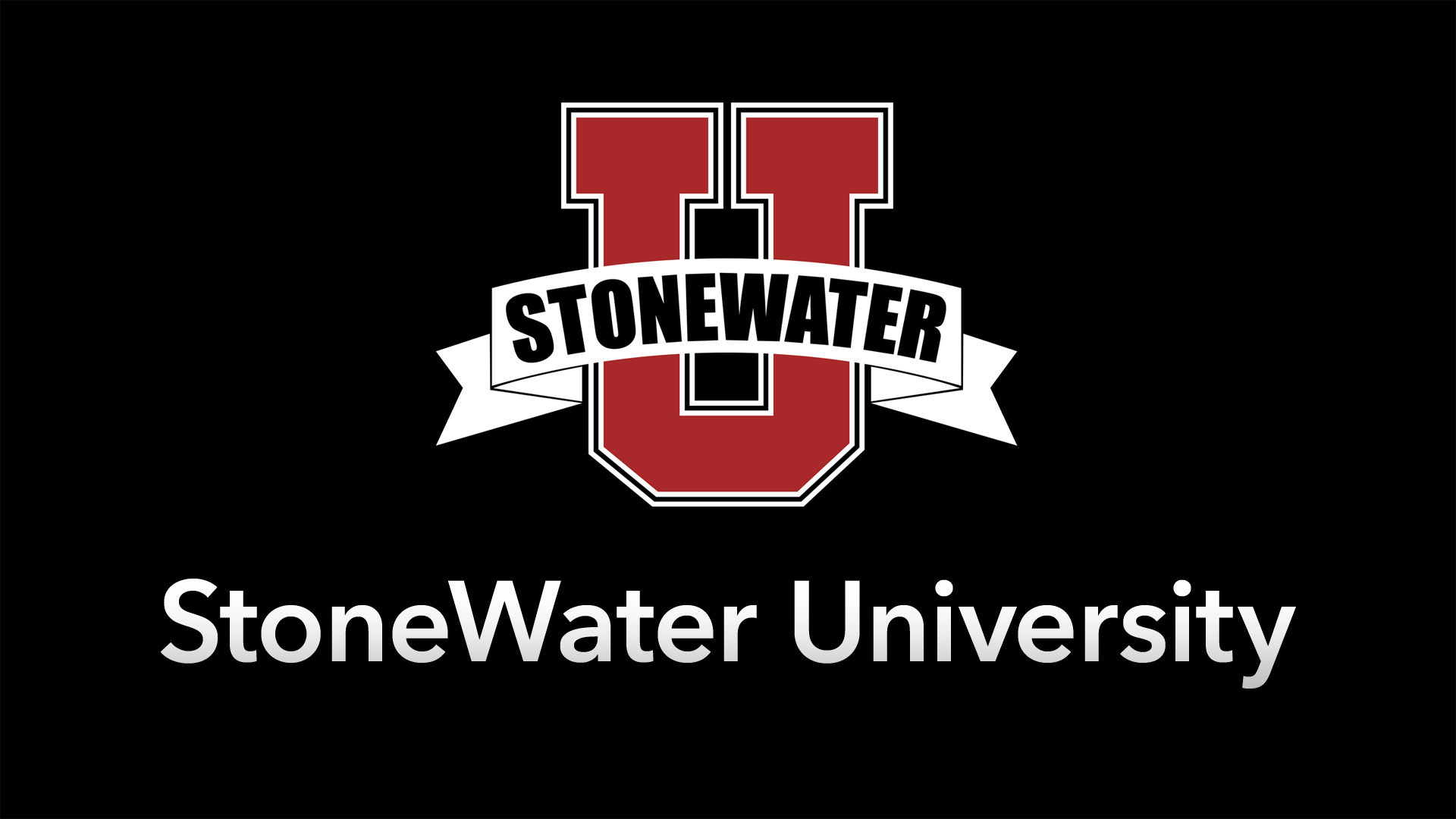 SWU: Discovering Your Spiritual Gifts & Place for Ministry (October Session) |GB
October 24th - October 31st, 2017
$0
This class will be taught by Pastor Steve Struikmans, Doctor of Ministry. Did you know that when God graces you with Salvation through Jesus Christ He also gifted you by His Holy Spirit? You were saved to make a contribution. You weren't save just to wait for Heaven when you die. God called you and equipped you with special abilities – called Spiritual Gifts – that enable you to contribute in the mission and ministry of Christ's body, called the Church.
This class will be offered from October 3-October 31, 2017. This course will cover the following topics: 1) God's master plan for the Church, 2) A biblical teaching on spiritual gifts, 3) Exploring various spiritual gifts, 4) How you discover your gifts 5) Finding your position on the team.
Child Care is available for a small fee of $15 for one child and $30 for two or more.
If you need assistance or additional information please email Cara.Johnson@StoneWaterChurch.com
Father Son Campout
October 27th - October 28th, 2017
$30 - $45
Dads, don't miss this great opportunity to spend a night under the stars with your son. This year's campout will be at the Langdon Ranch. Starting Friday evening at 5:30pm, we'll set-up tents, grill dinner, hear some great teaching, play games and take part in some epic nighttime missions. We'll wake up to breakfast, opportunities for great conversations and of course, awesome time with the Lord enjoying His creation. Activities will conclude at 11am.
All of our teaching and events will be designed for K-5th grade kids but you are welcome to bring other aged kids if you feel they would enjoy the event.
You will need to bring your own tent, sleeping bags, cots (anything to spend the night) as well as some drinks and snacks for you and your son. We will be providing dinner and breakfast. Don't forget to bring your bibles, flashlights, chairs, something to take notes in and anything else that would make your evening memorable. There is a creek on our campsite so feel free to bring fishing gear as well.
Please do not hesitate to contact us if you have any questions about the event. All are welcome, so invite your friends or family as well.
Tony Stigler Wild Woods Director, Granbury Campus Tony.Stigler@StoneWaterChurch.com
Glen Rose Trunk or Treat- Trunk Signup
October 28th, 2017
This years trunk or treat will be at the Glen Rose High School parking lot on Saturday Oct. 28th at 5:00pm. You are signing up to provide a decorated trunk for the event.
We ask that you please arrive no later than 4:00 to setup your trunk and have it ready to go by 4:30. We will provide you with some candy but if you would like to provide some candy with your booth to get you started that would be great!
If you have any questions please contact Celeste Parrish or Lea Ann Hayes
Granbury - November Vision Party
November 12th, 2017
The StoneWater VISION PARTY is a fun and informal way to connect to the vision, ministries and community here at StoneWater Church. You'll enjoy an interactive afternoon getting to know and love ministry leaders, pastors and others who are looking to connect with the StoneWater family. You'll also have an opportunity to become a member of the church, or as we like to say: "JOIN THE TEAM!"
At the Vision Party, you'll take an engaging tour of the facility where you'll hear why we believe what we do and how that affects what we do. Pastors and leaders will share ways you can connect with us by serving in ministry together and also ways you can connect with others within the StoneWater family.
Childcare is provided for children age birth through 4th Grade but please register your children to ensure we are adequately prepared to love and care for your family. We'll provide some snacks for the little guys and I promise, they'll have a blast. Older children are welcome to attend the event alongside their parents.
If you have questions or need additional information please contact Michelle Bentham by email: membership@stonewaterchurch.com or call 817.579.9175.
Ignite 2018
January 26th - January 27th, 2018
Man Camp
February 2nd - February 3rd, 2018
$0 - $85
You still have time to register for our February 2nd-3rd Man Camp.
Men, this will be the most impactful 24 hours of your year. Man Camp has proven year after year to be a huge catalyst for spiritual growth. Hear raw and uncut teaching and testimonies from StoneWater Pastors and leaders. Man Camp begins on Friday at 6pm. Men can spend the night in one of the cabins, or stay at home and return at 8:00am on Saturday. The event ends at 4:30pm Saturday.
Riverbend Retreat Center, 1232 -C County Road 411B, Glen Rose, TX 76043
If you can only attend Friday evening, you can enter "Friday Only" as a discount code and it will reduce your fee.
If you can only attend Saturday evening, you can enter "Saturday Only" as a discount code and it will reduce your fe.
We look forward to seeing you at Man Camp.
For any additional questions, don't hesitate to contact Casey Oliver at 817.903.9264.